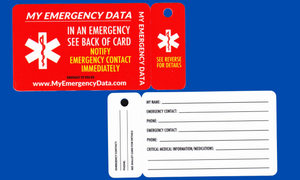 If you are ever in an emergency situation and cannot speak for yourself having this wallet card/key tag combo could help first responders notify your loved ones quickly. Bright red glossy front to grab their attention and emergency contact and critical medical information on the back. The key tag simply snaps off the end of the card and let's them know you have a card in your wallet with more information. Made of Teslin plastic just like your store shopper cards, Great idea for seniors, children, and every member of the family. A great compliment to go along with our Medical USB's and Life Pocket Sleeves. You can write on the back with a simple ball point pen. BE PREPARED AND PROTECTED. (Helpful hint: After writing your information on the back of the card I suggest a piece of scotch tape over the writing to prevent any smearing or smudging).
Combo Wallet Card/Key Tag
Valuable help
A great way to get information to rescue personnel when you can't speak for yourself. Pleased with my purchase and giving 3 as gifts.
Key tag.
It's nice to have something readily available in case of an emergency that emergency responders don't have to search for to get pertinent information. The wallet card and key tag both look to be of a quality that will stand up to every day wear and tear.
Emergency data
Love it thank you for that it really help a lot Great idea have this information
I give 5 stars suggest you get all these it's worth it for your life
What a great idea
It's a great idea to have this information available in case of an emergency. Going to order more for the whole family including the kids.