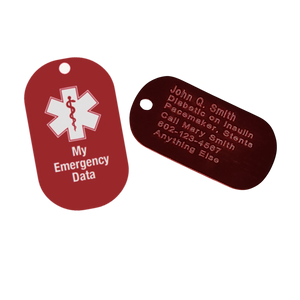 Medical IDs save lives. With this personalized RED medical alert ID tag you can convey, chronic conditions, food and/or drug allergies, and disabilities as well as share emergency medical contact information. Each tag can be engraved with up to six lines (20 characters each line) of information. Yes, first responders 🚑are trained to look for Medical IDs. 
Tags are made of lightweight anodized aluminum and our engraving does not rub off like laser engraving or stamping. All tags include a 30" chain that can be sized to fit.
SPECIAL INSTRUCTIONS: 6 lines of type with 20 characters per line. Spaces count as 1 character. We do not engrave emojis or special characters. Please include your email and phone number just in case we have any issues with your order.