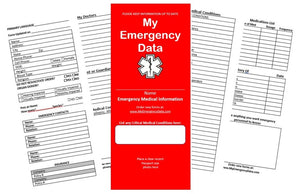 Replacement forms when you need to change or update information on your Life Pocket Form. This is just the form by itself. 2 blank forms in each order so you will always have an extra.
Just a wonderful resource
Such a wonderful thing to have. Easy to complete and invaluable to have available.
Emergency data.
I bought a set for myself, and bought some for friends. My doctor loved the idea, and said that it had the most important idea that a doctor would need in an emergency. My friends were all happy with them. One even said that she liked the idea, that it was short enough to fill in in 15 minutes, and still worth taking the time to be prepared for an emergency.
Replacement RED Life pocket forms (2-Pack)
Excellent!
Simple form to make available to first responders in case of an emergency!
All alone
I'm getting along in years and I live alone. I've given one of your Data cards to my niece who lives nearby and I have one on the fridge in plain sight. Thanks.